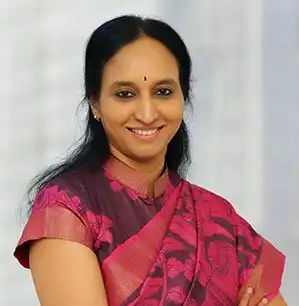 Dr. S. Vyjayanthi
MD, DGO, DNB, MRCOG, MSC (Embryology UK)
Sub-specialist in Reproductive Medicine & Surgery (RCOG, UK)
Director and Fertility Specialist, MotherToBe
Head of Department & Consultant Fertility Specialist, KIMS, Secunderabad.
Credentials
Clinical fellowship in Reproductive Medicine, Leeds Reproductive Medicine Unit, UK.
MSc Embryology, Leeds University, UK.
Sub-specialty Fellowship, Reproductive Medicine & Surgery, St Bartholomew's Hospital, London, UK.
Sub-specialty Accreditation in Reproductive Medicine & Surgery, RCOG, UK.
CCT, Obstetrics & Gynecology, RCOG, UK.
Credentials
Clinical fellowship in Reproductive Medicine, Leeds Reproductive Medicine Unit, UK.
MSc Embryology, Leeds University, UK.
Sub-specialty Fellowship, Reproductive Medicine & Surgery, St Bartholomew's Hospital, London, UK.
Sub-specialty Accreditation in Reproductive Medicine & Surgery, RCOG, UK.
CCT, Obstetrics & Gynecology, RCOG, UK.
Experience
20+ years experience in Fertility Practice.
10+ Years in Hyderabad &  19500+ Happy Couples
Dr. Vyjayanthi is an eminent Fertility Specialist in Hyderabad, India with more than 18 years of experience in the field of Fertility and has performed more than 7500 Cycles of IVF. She has worked in the United Kingdom for 10 years and has obtained the prestigious Fellowship in Reproductive Medicine and Surgery at world-renowned centers of excellence in Leeds and London. She has vast experience in all aspects of Reproductive Medicine and Surgery and has worked with an eminent figure in the field of Fertility in the UK.
She has also obtained sub-specialty Accreditation in Reproductive Medicine, which gives eligibility to practice as a Consultant and Director of an IVF Unit in Britain.
She is the only clinician, infertility specialist in Hyderabad, India to have also obtained M.Sc. in Embryology in order to widen her expertise in this field.
She is also among the very few Fertility Specialists in Hyderabad, India to have obtained Sub-specialty accreditation In Reproductive Medicine and Surgery from the Royal College of Obstetricians and Gynecologists in London. She returned to India in 2009  and set-up the Fertility Center, which has within a span of 9 years, earned a reputation as one of the foremost fertility Centers of excellence in the country.
Dr. Vyjayanthi has worked with Prof Adam Balen, a world authority on PCOS and Mr. Rutherford who is a founder member of the British Fertility Society while pursuing her Clinical Fellowship in Reproductive Medicine at Leeds both of whom are leading figures in Infertility in the UK.
She did her Masters in Clinical Embryology at Leeds University under the supervision of Prof Helen Picton whose research interests are on human oocyte and embryo development. Dr. Vyjayanthi, the best infertility doctor in Hyderabad who has worked on cellular and molecular markers of oocyte quality as her project during her Master's Programme at Leeds and has done a lot of research in this field and has several publications to her credit. Although a clinician, she chose to do Masters in Embryology to get an in-depth understanding of embryology which places her at an advantage in counseling couples and guiding them in the right direction.
She further worked as a sub-specialty Fellow at St Bartholomew's Centre for Reproductive Medicine in London for 2 years and has accreditation with RCOG as Sub Specialist in Reproductive Medicine which is essential to work as a Director of IVF unit in the UK. She worked with Ms. Tozer and Mr. Al Shawaf a pioneer in ovarian stimulation and coasting protocols and fertility preservation which helped her further enrich her experience in this field and turn out to be the best fertility specialist in Hyderabad.
Dr. Vyjayanthi has also successfully completed the Royal College of Obstetricians and Gynaecologists and British Fertility Society certified 'special skills module' in Assisted Reproduction, Management of Infertile Couple, Advanced Hysteroscopic  Surgery and Transvaginal Ultrasound.
She has been practicing Infertility exclusively since 2003 and well experienced in all the aspects of reproductive medicine. She is the best fertility specialist in Hyderabad also, an expert in the management of PCOS, Poor ovarian reserve, Coasting protocols, Recurrent miscarriage, Recurrent Implantation Failure, and Fertility Preservation to name a few.
GOLD MEDAL: MD, Obstetrics & Gynaecology, Trivandrum Medical College.
GOLD MEDAL: DGO, Obstetrics & Gynaecology, Trivandrum Medical College.
Distinction in Clinical Embryology: MSc, Leeds University, United Kingdom.
Certificate of Completion of Training (CCT) in Obstetrics and Gynaecology, Royal College of Obstetricians & Gynaecologists, London, which is essential to work as a Consultant in the UK.
One of the few doctors from India to achieve CCT and Subspecialty Accreditation in Reproductive Medicine, which gives eligibility to practice as a Consultant and Director of an IVF Unit in Britain.
Advanced Treatments
At MotherToBe fertility centre in Hyderabad, we offer specialized treatments. We have the expertise and our expert team of doctors are experienced and highly qualified to perform these advanced procedures and offer high success rates.
Specialized Clinics
MotherToBe offers specialized services to serve the needs of all infertility related issues. The following are some of the specialized services.
Best Fertility Centre in Hyderabad:
MotherToBe the leading fertility centre in Hyderabad provides the top-notch fertility treatments, IUI, IVF, Egg donor, and other gestational carrier services to the couples who are struggling with infertility. being the best fertility centre in Hyderabad, we are happy to be able to provide cost-effective fertility solutions with the assistance of highly-qualified and expert infertility doctors.
When you choose MotherToBe fertility centre in Hyderabad, you are choosing a team of qualified
and experienced professionals that offer more than just treatments but the utmost care, and hospitality.
We always strive to offer compassionate help and as the
best fertility hospital in Hyderabad, we promise you to resolve fertility hurdles that are stopping
to achive your baby dreams and ensure you embrace parenthood.
At MotherToBe infertility centre in Hyderabad
we work beyond expectations, every day, we create miracles who are dreaming to start or complete their families.
we lend a personal hand to every patient who looks after us and we satisfy them with unparalleled compassion and trust.
Our every team member holds their responsibility to do everything possible for the patients. The top fertility centre in Hyderabad
considers unique fertility issues of every person and through a customized treatment approach, we transform the parenthood dreams into reality.
Why Choose MotherToBe Fertility Centre in Hyderabad?
With MotherToBe being the best fertility centre in Hyderabad, nurturing unfulfilled dreams of becoming parents for many childless couples.
MotherToBe is set up as a state-of-art and patient-friendly fertility center in Hyderabad. Our fertility clinic is equipped with the advanced
technology for infertility treatment and also boast a well-qualified and experienced team of infertility specialists. Combining the art and
science of conception with our utmost care we guide at each stage of the exciting journey towards attaining your parenthood. MotherToBe is a
preeminent fertility centre in Hyderabad serving various locations including Madhapur, Kondapur, Gachibowli, and Hitech city as well.
Our mission is to provide whatever required treatment that is simple to advance, being the best fertility centre in Madhapur, Hyderabad
we follow a personalized and individualized approach. We give the best chances of conceiving, whether it's your first attempt with fertility
treatments or you have already tried other treatments failed elsewhere.
MotherToBe fertility center in Hyderabad has been a preferred
choice for patients who are trying to accomplish their baby dreams. whether it's related to repeated failures, and compelx cases, as the topmost
and the best infertility, IVF centre in Hyderabad we ensure them with positive outcomes.
The unriravlled fertility center in Hyderabad having high pregnancy success rates, while we take pride in our strong towards outstanding patient care. The dedicated physicians as well as staff offer a complete range of diagnostic and fertility treatment services for both women and men. From basic infertility treatments like administration of fertility medications including OI-ovulation induction and IUI-Intrauterine Insemination to latest assisted reproductive techniques such as insemination, IVF, ICSI, fertility preservation, egg donation, etc. The best fertility center in Madhapur, Kondapur, Hyderabad made it as life work and mission to help people become parents. We are one of the pioneering IUI centers in Hyderabad where we deliver result-oriented yet cost-effective IUI plans to leverage successful outcomes.
At MotherToBe fertility centre in Hyderabad, we believe that everyone has the right to enjoy parenthood and we are dedicated to giving the best chances of pregnancy for our patients. In all our infertility centers in Gachibowli, Hitech city, Hyderabad, our expert teams provide professional, discreet, and caring service moreover delivering concise and clear information to our patients.
MotherToBe is a renowned infertility center in Hyderabad, where our expert team of infertility specialists can help you in realizing your dream of growing your own family. Our fertility doctors are specialized in embryology and trained in reproductive endocrinology and other advanced fertility techniques at centers of excellence in the UK. The fertility doctors ensure compassionate and individualized fertility care for more than 20 years. The best fertility center in Mehdipatnam, Gachibowli, Hitech city, Hyderabad bringing 20+ years of expertise and efforts to bring smiles on faces of childless couples at any cost.
Here are the success stories of some of our patients in their own words
Firstly I would like to thank Dr Vyjayanthi mam. We appreciate her for being very professional and mastery. We have been married since 12 years and struggling with infertility issues.We were hopeful and confident that we will get the positive results. we are very happy to say that all our dreams came true. I will surely suggest the infertility patients to have little patient with the treatment and come to Dr Vyjayanthi mam and take treatment under her to make your dream come true.

We are very happy to give review so that many patients like us will be benefited. Dr Vyjayanthi mam understand the patient problem and treats them the best. She is excellent, amazing ,no words to express our gratitude.Thank you Dr Vyjayanthi mam for all you support. I would like to take this opportunity to thank all the assistant doctors and staff.

We are happy with the Dr vyjayanthi madam excellence treatment in fertility methods. I got very good support from all assistant doctors whenever I visit for checkup. I would like to thank one and all for there excellent support.

We are very much satisfied with the treatment. Dr. Vyjayanthi mam is excellent fertility specialist.I would like to thank my friend who referred me to the best fertility  Specialist. We would like to thank Dr Vyjayanthi mam for her effort and all team members for their support.we would definitely refer many patients here.

I really thank god for taking us to the best fertility doctor in the city Dr S Vyjayanthi. She is very sweet and patient lady. Always ready to clear the doubts. Am very happy that I conceived with dr S Vyjayanthi madams treatment ,though I had many complications, she was very positive that i will conceive. We are very thankful to her and I strongly advice all the couples who are having fertility issues should come to Dr S Vyjayanthi madam.

We are very happy with the positive result in the first attempt of our treatment. This is all because of Dr Vyjayanthi mam the best fertility specialist.We would like to thank all the other doctors, staff they are very caring and supportive.

Thanku Dr Vyjayanthi It was a very pleasant experience to take treatment here. We owe you for being blessed for the first time of fertilitt treatment. The ambience and the way you and your team interact with us during all phases of the treatment you were very patient in hearing my views and problems and suggested the best solution. With your help I am thankful that I am blessed as a mother there are no words to express but the only thing that I can say is " I would owe you for the whole life". I definitely bring my baby for your blessings

Thank you Dr Vyjayanthi mam for your treatment.We are satisfied fully with the treatment and the facitily available in your centre. We will definitely refer other couples who are in need of fertility treatment. My heartfelt thanks to all the Doctors and supporting staff very good team work.😊 👍

We would like to start our feedback with thanking Doctor Vyjayanthi madam and staff for giving us our gift of life and we couldn't fulfill our dream however it turned real. Best part of it is Protocal followed for the treatment ,Clear direction,Friendly staff,Quick decision making and accurate decision. Dr Vyjayanthi is the most professional ,accurate ,quick skilled doctor we have visited.

Doctor vyjayanthi Madam is very friendly and patient with patients. We are very happy with her treatment. We got a positive results within 5 months with simple medication. I strongly recommend to all who are suffering with fertility problems , Dr Vyjayanthi Madam is the brilliant doctor for the people with fertility issues.Thanks to Vyjayanthi Madam and her Team for fulfilling our dreams:)-

Visited after 1 year of waiting for pregnancy. Solved issues with in 2 months . Happy with Dr. Vyjayanthi mam and her treatment., thanks to assistant doctors and supporting staff too… i strongly recommend dr vyjayanthi mam for any kind of fertility issues once again thank u so much mam… for making our dream come true…

Dr.Vyjayanthi mam understand the patient problem first and resolve it very nicely. Assistant doctors supports are good.All the staffs and nurses are very professional and polite.

We are very greatful and thankful to Dr Vyjayanthi madam. She filled our lives with joy and happiness. We came to her with lot of tension after visiting many other clinic in Guntur where we couldn't get positive results. Hopefully we got a pregnancy and discharged to the gynecologist. Hope we could continue out treatment here since Dr Vyjayanthi mam is very caring and all the other doctors, support staffs are excellent. Thank you so much for being reason behind our happiness.

Ma'm is one of the best fertility specialists in India and you can see that from day 1. The treatment is meticulously planned and her team makes sure that we understand the instructions and follow their guidelines. Ma'm and her team of doctors are very friendly and open in communication. Till we are with them we are in safe hands and the end result would always be positive. Thanks to Dr. Vyjayanthi ma'm. Highly recommend.

I am very thankful to Dr. vyjayanti mam as my dream came true in first round of IVF .she is very ethical in her practice and she had finest and advanced infrastructural facilities with which any complicated case of infertility can be resolved.

Dr Vyjayanthi mam thankyou for treatment. Our treatment went on well inspite of some compilations like unicorunate uterus we got a positive result and we are blessed with twin pregnancy. We are referred here by Dr Manjula mam, we are very thank full to her for referring us to a right and best fertility centre. We are very much satisfied with the Dr Vyjayanthi Mam's treatment, facilities and all care provided by the Staff.

Myself Fouziya begum having pcod problem and I have been trying for pregnancy from past 5yrs.One of my neighbour told me about dr.vyjayanthi and she conceived by madam. Now my dreams came true I conceived .I will refer patients who are looking for fertilty to dr.vyjayanthi. She is a very good DOCTOR.Thank you so much madam.

At KIMS fertility centre I feel i got international standards of treatment in India only. Actually my brother is working for NHS at united kingdom.if i wont succeed at KIMS i want to go to uk, but in hands of Dr. Vyjayanthi madam i succeed. I am totally satisfied with madam's treatment. i highly recommend this hospital for needy couples. I am highly thankful to team of KIMS fertility centre.

We are satisfied with medical treatment here. We have been taking treatment here from last two years. Firstly We were very in tense mode but by the help and good cooperation of Dr Vyjayanthi mam and team I easily come out from my infertility problem. Before coming here I took treatment from many doctors but couldn't get success.Here all advance facilities are available very genuine and economical. For this we are very thankful to Dr Vyjayanti ma'am. In our view this is the best service provider for IUI and IVF in Hyderabad.

Dr. Vijayanthi is extremely nice and polite doctor. She explains all the steps very clearly before undergoing the IVF process. I'm very much happy with her service and would recommend her to my friends and family for IVF services Coming to her center is a extremely delightful service as they take special care at each and every step of the entire IVF process. I'm so blessed to opt this service and go out with a positive result.

Excellent support from Dr Vyjayanthi madam and entire staff. I strongly recommend whoever having a dream of Kid. Special thanks to Vyjayanthi madam, Indrani madam, Veena and Maria and whole staff.

We have made our biggest dream came true by visiting Dr Vyjayanthi. We are married since 5 years. After 3 yrs we consulted many doctor in the other fertility centers and then we finally consulted Dr Nitmala madam.We would also like to thank Dr Nirmala Paplkar who refered us to Dr Vyjayanthi ma'am. We finally got positive result with in 3 months time. Dr Vyjayanthi is the best fertility specialist thanks a lot for the best treatment.

We are feeling so good about the treatment under Dr Vjayanthi madam and management of fertility centre. We observe Dr Vyjayanthi is so experienced doctor during the treatment and treats very confidently.

We visited Dr. S yjayanthi, for fertility treatment through a treated patient reference… Must say Great understanding of patient's situation mentally & physically and works on the route cause Thank you mam ….

I am really happy to share my Experience with Dr. Vijayanthi garu, she is so gentle and a nice person. And of course she does a good job and so professional. I really appreciate her services and concern towards each and every patient. I always receive excellent services when i go to the facility… .. Her staff is all as sweet as her and so patient to explain everything since day 1…. I would like to thank every individual personally…Dr. Namratha garu, Dr. Indrani garu and Dr. Jasmine garu and the staff Sunitha, Aruna and Swathi.. Finally my BIG THANKS to Dr. Vyjayanthi garu..

I am very thankful to Dr. Vyjayanti and her whole staff here. We got pregnant with twins after only one IVF cycle. They are very caring especially Rama Eshwari Pooja Dr. Namrutha Dr. Meenakshi Maria Vidya ….I recommend others who want to have baby to come here…God Bless them all to keep on helping others…

I have undergone a laparoscopy in 2014 and diagnosed with severe endometriosis, I just came to know that I should undergo advanced infertility treatment,I.e IVF,I have been to many doctors and totally exhausted with no result,I was totally hopeless before I met Dr.Vyjayanthi mam. Mam is very friendly and supportive,the way she treats patients is very good,each visit she used to ask me if I have any doubts. She has a very great team and good doctors. It was totally a nightmare and I used to have lot of questions in mind whether I would become a mother or not . Its just because of Dr Vyjayanthi mam today l am three months pregnant and looking forward to see my babies in another 6 months,I thank all the supporting staff Maria mam,Veena mam,Rama,Swathi sisters and each and everyone,I also thank Dr.Namrata mam,Dr.Jasmine mam,I recommend all the childless couple,do not loose hope and meet Dr Vyjayanti mam for stepping into parenthood,yessss…little miracles happen here.

Thank you Dr Vyjayanti madam for treating us. First attempt of the treatment we got good result. We will refer other patients.