The Team is lead by one of the most accomplished, experienced & foremost Fertility Specialists in India
A comprehensive range of fertility services are offered under one roof, addressing all fertility issues and to offer the best of clinical & psychological support throughout the treatment
Amongst the Highest success rates in India with a track record of having performed more than 7500 cycles of IVF
Customized treatment plan for every couple
Top fertility centre in Hyderabad where the lab is equipped with state of the art technology meeting international standards
Fixed Charges, Transparency & Ethical Practices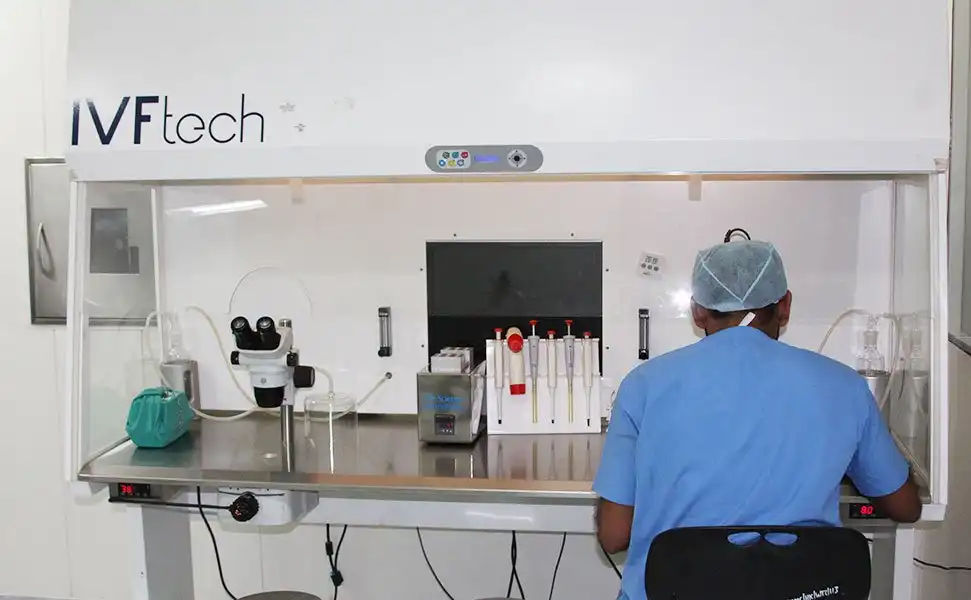 Latest Technology
MotherToBe has access to highly advanced laboratory facilities in the field of embryology and andrology at KIMS Hospitals. We offer the latest technology with the highest accuracy. The modular embryology lab at KIMS is one of the very few labs in India with an air filtration system. This makes the cleanest air environment possible for all IVF procedures to get the best of embryo quality.
The latest IVF Center in Hyderabad, which is functional since March 2016, is the largest IVF facility in Telangana and Andhra Pradesh. The planning of the IVF centre has been done in accordance with the Indian Council of Medical Research (ICMR) guidelines.
Our modular IVF lab is at the forefront of IVF technology. We maintain 'class 10,000'- cleanroom facilities to provide the best possible laboratory conditions to ensure consistently high success rates. as the prominent and the best fertility hospital in Hyderabad where we offer a wide range of fertility services including the latest technologies such as IMSI, Laser Assisted Hatching, Preimplantation Genetic Diagnosis/ Screening, eggs sperm or embryos cryopreservation.
Why Choose MotherToBe Fertility Clinic in Hyderabad?
We are the pioneers in fertility treatment with high success rates in all sorts of fertility procedures. Ranked #1 fertility clinic in Hyderabad, started with a passion to treat infertility and bestow pregnancy to couples who are childless. The best fertility hospital in Madhapur, Hyderabad believes that it's the fundamental right of every couple to have their own genetic child. Through modern assisted reproductive techniques, the most difficult infertility cases could be cured.
It has been the pursuit of the best infertility hospital in Hyderabad for more than twenty years to bring parenthood joy and happiness to the infertile couples with the help of novel ART techniques.
As one of the genuine fertility hospitals in Hyderabad, our objective is to pursue research so that we can provide answers to all forms of unexplained infertility. Furthermore, the leading fertility centre in Hyderabad strives to minimize the cost of ART procedures such that all couples can have access to realize their baby dreams.
We want to make it possible for every childless couple to have a healthy baby. The best fertility hospital in Kondapur, Gachibowli, Hyderabad works with a foreseen vision to offer world-class infertility treatment and stand beside in their entire process right from consultation to the bliss of parenthood.
MotherToBE is the top-class fertility clinic in Madhapur, Hitech city, Hyderabad that has strong in-house team of fertility doctors, embryolosists, nursing staff, medical counsellors, expert andrology team and more. under the guidance of expert fertility specialist in Hyderabad, all department work dedicately in cohesion to acquire unbelievable results. Right from basic to advanced the best infertility hospital in Kondapur, Hyderabad becomes the second home for the patients provides fertility treatments in addition experience a welcoming, soothing, and friendly environment.
We evaluate each case individually as we know that not two cases are similar. Being the top fertility clinic in Hydeabad we won't miss out the key factors that are responsible for the infertility such as male, female factors, uterine factor, ovarian factors, tubal factors and complete endocrinological reasons are evaluated.
In our fertility hospitals in Mehdipatnam, Madhapur, Kondapur, Hitech city, Hyderabad equal significance is allotted to continued academin activities, clinical research as well as perfection in treatment protocols. MotherToBe fertility clinics in Hyderabad the ultra-sterile labs are equipped with the advanced technology in infertility management.
Internationally recognized center of excellence for infertility treatment and the top IVF center in Hyderabad enterprising capable doctors, embryologists, advanced laboratories reflect in our success rates.